Moderator: James Steele
Forum rules
Discussion related to installation, configuration and use of MOTU hardware such as MIDI interfaces, audio interfaces, etc. with Windows
by tugito » Wed May 20, 2009 1:31 pm
HI ALL. What I need is as I am listening to winamp for example to have the ability to volume up my headphones and volume down the monitors. This cannot be done! I tried everything..
Analytic..
I have my headphones plugged , and my main outs to the monitors.
When I want to listen to the phones HOW can I lower the main outs? Even if I put phones volume to the end they are really low. If I lower the volume at the same time to the monitors which I dont want to hear at that time then the phones has no volume at all.
If we go to the cue mix software we see monitor is enabled in main outs and if you go to the phones (at the right) and press monitor ,still there is no sound at phones..
Also if you want to leave only monitor enabled on the phones so to hear only the phones and you go and deselect the monitor on main outs (so to have only headphones) the volume blows up to a +4db standard. So there is no way to have the phones only..
This is a known problem, basically I feel that ultralite MK3 is NOT SUPPORTING phones! The only sollution is when you wanna hear from the phones you must close your monitor speakers and then volume up both main outs volume and phones volume...
Has anyone have any sollution? Maybe a cue mix setup that works? I cant figure out nothing and many people have this problem with no answers..
Help please.
I'd like to be able to control 2 volumes separately, ie the main volume(the sound that goes out to my speakers) and the phone volume (the sound that goes to my headphones). Can any kind soul please enlighten me.
H E L P M E! Tell me how to fix my setup in cue mix soft or something..
Posts: 4
Joined: Tue May 19, 2009 2:51 pm
Primary DAW OS: Unspecified
---
by dare » Thu May 28, 2009 12:00 pm
One way is to make headphones follow the mix in use - through cuemix. I haven't tried this. Another, not so conventional way, is to connect spdif in and out (spdif out into spdif in - loopback connection) and then in winamp you select spdif output. Then in the mixes - for example in mix 1 which goes through main1+2 you unmute spdif 1+2 input and set it to some level - if you want, all the way up - doesnt matter. Then on mix 2 which would be mapped through headphones out, also unmute spdif input. In the control panel, set MAIN 1+2 ASSIGN to main out and HEADPHONES ASSIGN to headphones out. Then you will get possibility to control main volume through main vol knob, and headphones out through headphones knob. You won't need to press MONITOR button on phones out. If you do that, then the main volume knob will affect phones out IN ANY CASE.

It sounds a bit complicated, but i will post some photos - it is very simple, basicly. We do not have DAW's out return, to insert it in our mixer router, so in this way, we'll get one. If we had for example DAW's input besides physical ones, you could put it in whatever out you like - on the headphones out... Putting headphones to monitor mains out through control panel, makes headphones override their volume control and they become a copy of main outs.

You could use this setup in ASIO for example, to output sound to SPDIF. Then youll get a possibility to make different mixes on different outs just like with the physical inputs.

ATTENTION: Watch out not to route anything inside cuemix through SPDIF out, like making a mix bus uses spdif out, because youll get a loopback.
Posts: 36
Joined: Sun Jan 18, 2009 6:21 pm
Primary DAW OS: Unspecified
---
by tugito » Sun May 31, 2009 4:24 pm
Put some photos if you can so I can understand. For now I have main out to main 12 and phones to phones. Then when I listen to winamp and want to close the speakers I choose phone out from winamp. In nuendo everything works great, phones to phones volume and main to main..
Posts: 4
Joined: Tue May 19, 2009 2:51 pm
Primary DAW OS: Unspecified
---
by dare » Tue Jun 02, 2009 7:10 pm
First connect your SPDIF OUT to it's SPDIF IN with RCA to RCA male connector cable
Then setup your winamp like this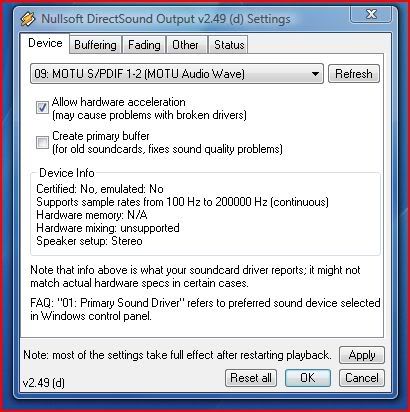 When done with the winamp, setup your CUEMIX like this :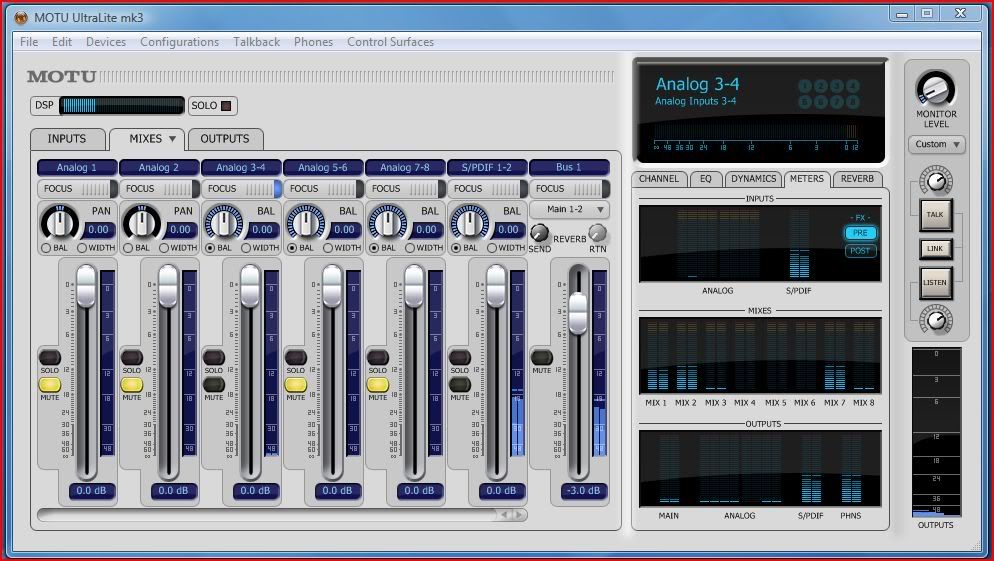 This is the main mix setup which goes to MAIN OUT 1+2. Everything routed there will be heard on the main output. SPDIF also... MAIN VOLUME LEVEL will affect this mix... If you have selected MONITOR for it, before...
Next setup will be for the PHONES OUT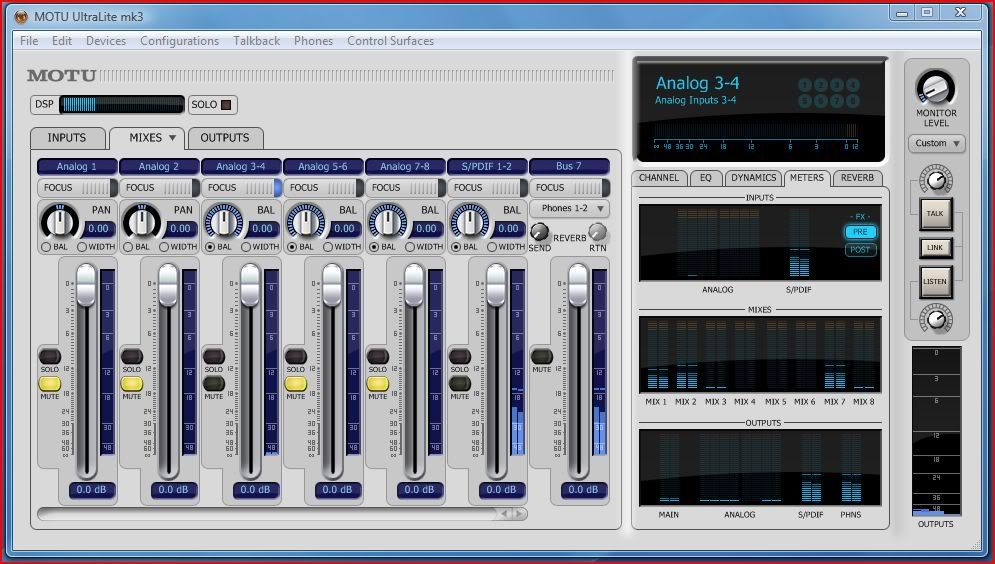 Here you see that SPDIF also is unmuted and runs through this mix to the PHONES output. Deselect MONITOR for the PHONES output so you can adjust the level by PHONES VOLUME knob on the interface itself. Otherwise, main volume would affect it's level too.
And here's one for the outputs setup... It is my setup just wanted to point out how MONITOR is off for the phones...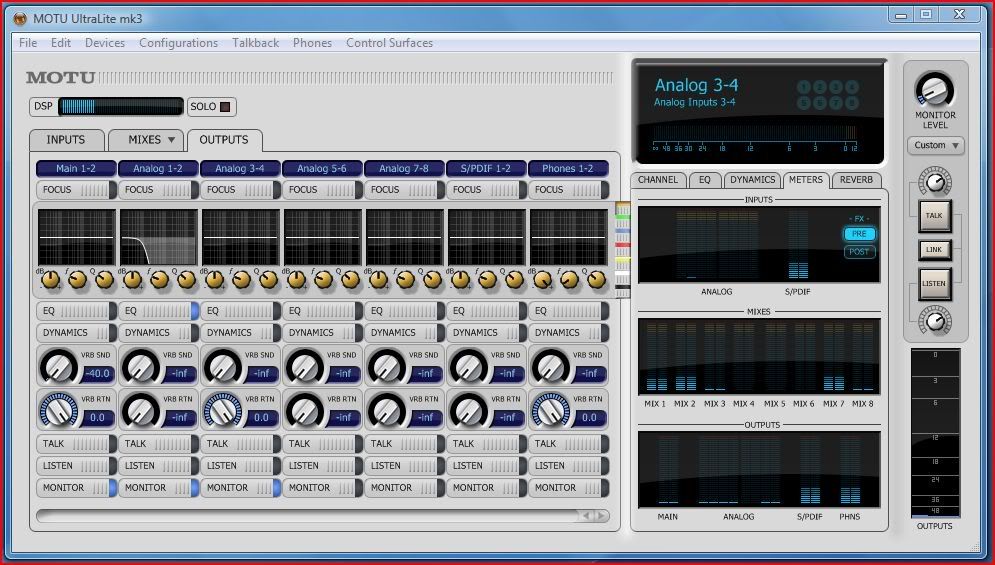 Last edited by
dare
on Tue Jun 02, 2009 7:25 pm, edited 1 time in total.
Posts: 36
Joined: Sun Jan 18, 2009 6:21 pm
Primary DAW OS: Unspecified
---
by dare » Tue Jun 02, 2009 7:20 pm
Additional explanation:
On the other interfaces you get at least one DAW input which you can route through mixer. In cuemix - every physical input goes through it's DSP mixer, but there is no DAW channel routed. Instead you send an audio DIRECTLY to an ASIO output hardwired to the physical outs - after the whole mixer-router thing

. So, to get a signal that you can process or route it with the DSP mixer, you must return it to some input. That way, you'll get your "door" to DSP. I choose SPDIF because there are no multiple AD/DA conversions and it is the most similar way to what is done on other brands of audio interfaces. That is done internally so you can see only DAW input on their control panels, but basicly that would be the same signal path. Everything remained digital 'till the end. And, it can work on 96KHz samplerate at the most, because on higher freqs (192KHz) you loose SPDIF section of the cuemix (along with the DSP effects).
You can also use this setup to utilise MOTUs reverb for example. Just send something from Nuendo on the group routed to SPDIF OUT, and then raise send reverb level of the SPDIF input and you will get that group + reverb mixed in main out speakers.
I hope this shed some light on the problem

Posts: 36
Joined: Sun Jan 18, 2009 6:21 pm
Primary DAW OS: Unspecified
---
---
Return to MOTU Hardware & Windows
Who is online
Users browsing this forum: No registered users and 2 guests